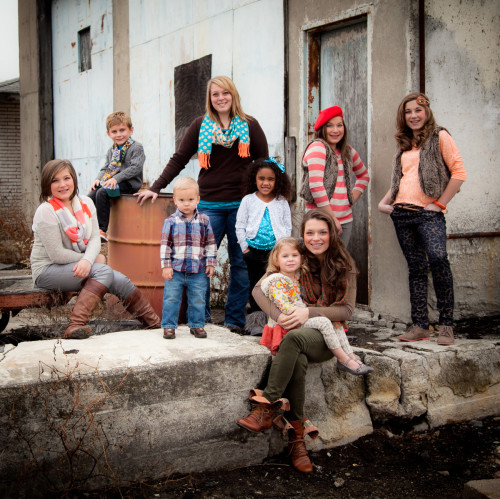 "What should we wear for our family portraits?"
I probably get this question more than all others combined! Having four children of my own, I definitely relate to the daunting task of dressing a crowd. My first response to this question is "dress your family the same way you'd decorate your house!"
Which means, first and foremost, don't go monochromatic: You wouldn't decorate a room with a grey couch, grey carpet, grey curtains, and grey paint. You'd insist on having at least some variety in your color palette, preferably colors that complement each other.
Then you'd combine those colors with different prints, textures, and layers. Dress your family the same way. After all, you don't want to look like your'e taking a team photo! Yes, cohesiveness is important but so is individuality.
Start by choosing a color palette that looks good on your family. Then don't be afraid to to accessorize! Accessories can be a great way to add splashes of color to even a simple color palette. If you want everyone in the same color, great! – just be sure to choose varying styles and shades of that color.
Dressing Infants for Portraits
When dressing a child 18 months or younger here are a few things to consider.
Don't choose an outfit that overwhelms the baby. You want the baby to be seen, so big bulky clothing is not always the best option. (e.g., big puffy vests)
No overalls! Although overalls are extremely cute, they tend to push up into the baby's face. I suggest overalls only after a child is walking.
No big images or words. If your child is wearing a shirt that has a big picture of a puppy dog on the front, it's likely that part of this image will be cut off in many photos. The same is true with large wording. So I suggest small, consistent print or, better yet, no graphics or words at all. There are exceptions to this rule, sometimes we just can't help but purchase those darling matching big brother, lil brother shirts or sister shirts. I will ensure that all of the wording is legible for these photos however, it would be a good idea to also bring a change of clothes that will be more conducive to a variety of poses.
Dressing Toddlers and Older Children For Photos
Again, I do not suggest wording or large graphics on your child's clothing.
No puffy vests. Although these are extremely cute for everyday wear, the collars tend to push up into the child's face, especially when seated. Bulky vests can also be cumbersome to deal with.
Don't forget the shoes! It's easy to overlook these when coordinating outfits, but they are important too. A good rule of thumb is to make sure that socks and shoes are the same shade or darker than your hemline.
Should We Change Outfits During Our Photo Session?
This is a great question! Changing clothes can be fun for those of us who like to have a variety of options. I'm always happy to accommodate when a family wants to plan an outfit change, however there are a few things to consider:
Will there be a place to change where we are taking the photos?
Will this affect the mood of your child or family? Some children handle outfit changes well, some do not. I trust you as the parent to make the best decision for your child because you know them best.
Finally, Have Fun!
I suppose the most important piece of advice I can offer is to have fun with your clothing! I know you want your portraits to look amazing, but don't let it become a source of stress on a day when you want everyone smiling.
Bring accessories such as hats, scarves, big hair bows, earrings, bracelets, sunglasses, umbrellas, tutus – anything that can add a little personality to photos. We can always add them or take them away as needed! Even if you are not sure about an accessory, just bring it! Your portrait session is about capturing you and your family at your best, smiling, enjoying the day, and feeling as good as you look!